TOEFL ITP Reading 07a Answer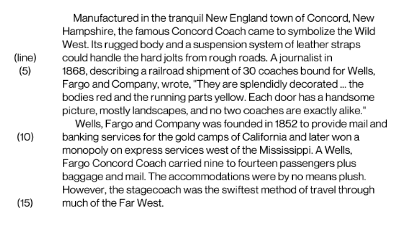 Manufactured in the tranquil New England town of Concord, New Hampshire, the famous Concord Coach came to symbolize the Wild West.
Dibuat di kota New England yang tenang bernama Concord, New Hampshire, Concord Coach menjadi simbol Belantara Barat.
Its rugged body and a suspension system of leather straps could handle the hard jolts from rough roads.
Badannya yang kokoh dan sistem suspensi berupa tali pengikat dari kulit bisa mengatasi goncangan dari jalan yang buruk.
A journalist in 1868, describing a railroad shipment of 30 coaches bound for Wells, Fargo and Company, wrote, "They are splendidly decorated … the bodies red and the running parts yellow.
Seorang wartawan pada tahun 1868, yang menggambarkan pengiriman 30 kereta pada Well, Fargo and Company lewat kereta api, menulis, "Kereta-kereta itu dihiasi dengan luar biasa indahnya… badannya merah dengan corak kuning."
Each door has a handsome picture, mostly landscapes, and no two coaches are exactly alike."
Setiap pintu memiliki gambar yang indah, lazimnya pemandangan, dan tidak ada dua kereta yang benar-benar mirip."
Wells, Fargo and Company was founded in 1852 to provide mail and banking services for the gold camps of California and later won a monopoly on express services west of the Mississippi.
Wells, Fargo and Company didirikan pada tahun 1852 untuk menyediakan layanan pos dan perbankan untuk perkemahan (tambang) emas di California dan lalu memenangkan monopoli layanan ekspress untuk area barat Mississippi.
A Wells, Fargo Concord Coach carried nine to fourteen passengers plus baggage and mail.
Sebuah kereta Well, Fargo Concord membawa sembilan hingga empat belas penumpang dan bagasi dan surat.
The accommodations were by no means plush.
Akomodasinya tidak mewah.
However, the stagecoach was the swiftest method of travel through much of the Far West.
Akan tetapi, kereta pos adalah moda transportasi paling cepat untuk sebagian besar area Barat Jauh.
1. The word "tranquil" in line 1 is closest in meaning to
(A) peaceful
(B) bustling
(C) industrial
(D) tiny
Jawaban yang tepat adalah
(A) peaceful
tranquil = peaceful = tenang
https://www.oxfordlearnersdictionaries.com/definition/english/tranquil?q=tranquil
2. The word "symbolize" in line 2 is closest in meaning to
(A) recollect
(B) fulfill
(C) deny
(D) represent
Jawaban yang tepat adalah
(D) represent
symbolize = represent = melambangkan
https://www.oxfordlearnersdictionaries.com/definition/english/symbolize?q=symbolize
https://www.oxfordlearnersdictionaries.com/definition/english/represent
3. Which of the following could best substitute for the word "rugged" in line 3?
(A) Streamlined
(B) Roomy
(C) Sturdy
(D) Primitive
Jawaban yang tepat adalah
(C) Sturdy
rugged = sturdy = kuat, kokoh
https://www.oxfordlearnersdictionaries.com/definition/english/rugged?q=rugged
https://www.oxfordlearnersdictionaries.com/definition/english/sturdy?q=sturdy
4. Which of the following is closest in meaning to the word "jolts" in line 4?
(A) Signs
(B) Shocks
(C) Sights
(D) Shots
Jawaban yang tepat adalah
(B) Shocks
jolt = shock = goncangan
https://www.oxfordlearnersdictionaries.com/definition/english/jolt_2
https://www.oxfordlearnersdictionaries.com/definition/english/shock_1?q=shock
5. The phrase "bound for" in line 5 is closest in meaning to
(A) belonged to
(B) destined for
(C) built by
(D) paid for
Jawaban yang tepat adalah
(B) destined for
bound for = destined for = dalam perjalanan menuju ke
https://www.oxfordlearnersdictionaries.com/definition/english/bound_1?q=bound
https://www.oxfordlearnersdictionaries.com/definition/english/destined?q=destined
6. The word "splendidly" in line 6 is closest in meaning to
(A) superbly
(B) deliberately
(C) specifically
(D) slightly
Jawaban yang tepat adalah
(A) superbly
splendidly = superbly = dengan sangat bagus / indah / menawan
https://www.oxfordlearnersdictionaries.com/definition/english/splendidly?q=splendidly
https://www.oxfordlearnersdictionaries.com/definition/english/superbly?q=superbly
7. The word "plush" in line 13 is closest in meaning to
(A) normal
(B) luxurious
(C) memorable
(D) unpleasant
Jawaban yang tepat adalah
(B) luxurious
plush = luxurious = mewah
https://www.oxfordlearnersdictionaries.com/definition/english/plush_2
https://www.oxfordlearnersdictionaries.com/definition/english/luxurious?q=luxurious
8. Which of the following is closest in meaning to the word "swiftest" in line 14?
(A) Most comfortable
(B) Cheapest
(C) Most direct
(D) Fastest
Jawaban yang tepat adalah
(D) Fastest
swift = fast = cepat
https://www.oxfordlearnersdictionaries.com/definition/english/swift_1?q=swift